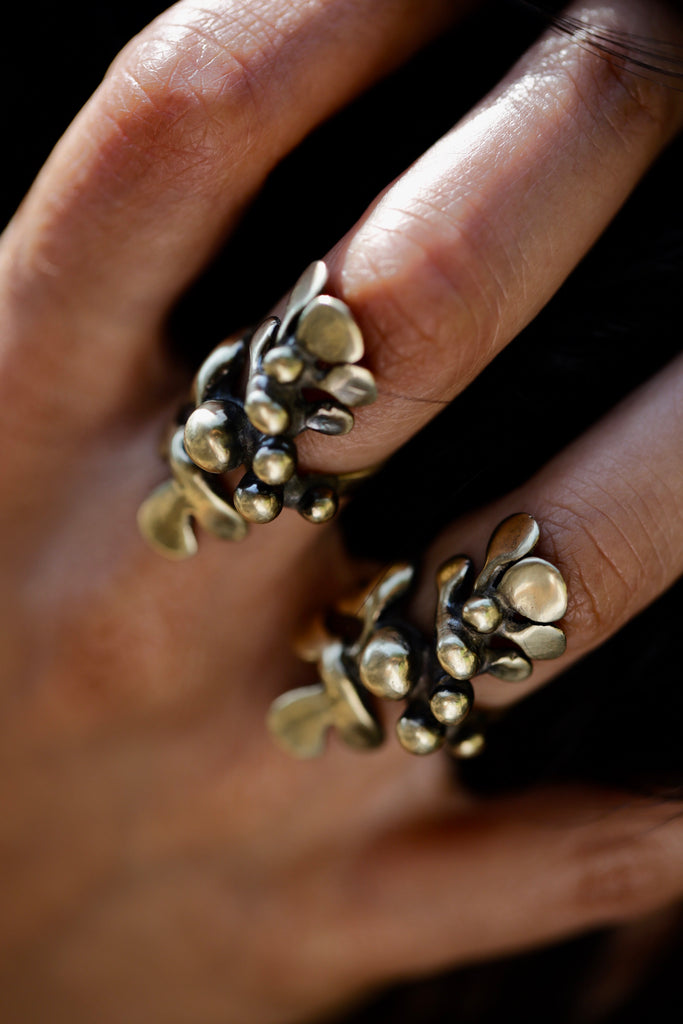 Persephone: Brutalist-Inspired Floral Ring
$ 165.00
Persephone is a frond-like Brutalist-inspired brass ring, reminiscent of the petal and leaf-like shapes in Henri Matisse cut-out collages. The name refers to the Greek Goddess who personifies the vegetation of spring renewal. Persephone also suggests the pomegranate seeds that the goddess was tricked into tasting by Hades, which compelled her to return to the underworld each winter.
Persephone is one of two limited-edition rings that I made based on a pair of vintage rings that I personally own and wear.  For years people constantly noticed and asked me about both rings, so I decided to investigate remaking them. I spent a lot of time researching methods, local artisans and materials to recreate the rings in a way that came as close to the look and spirit of the original 1970's pieces as possible. In addition, these rings have been individually hand-finished by me to achieve an antiqued patina with just the right amount of depth and shine.
The smaller figurative ring Fiona, that appears in some of the photos is the second of the two rings that were made and can be worn as a companion piece to this one.
Persephone comes in ring size 6.5, available in sculptor's brass and silver.
If you would like a different size, please send us a message with the requested size and metal.
All photos by Juliet Ellis.