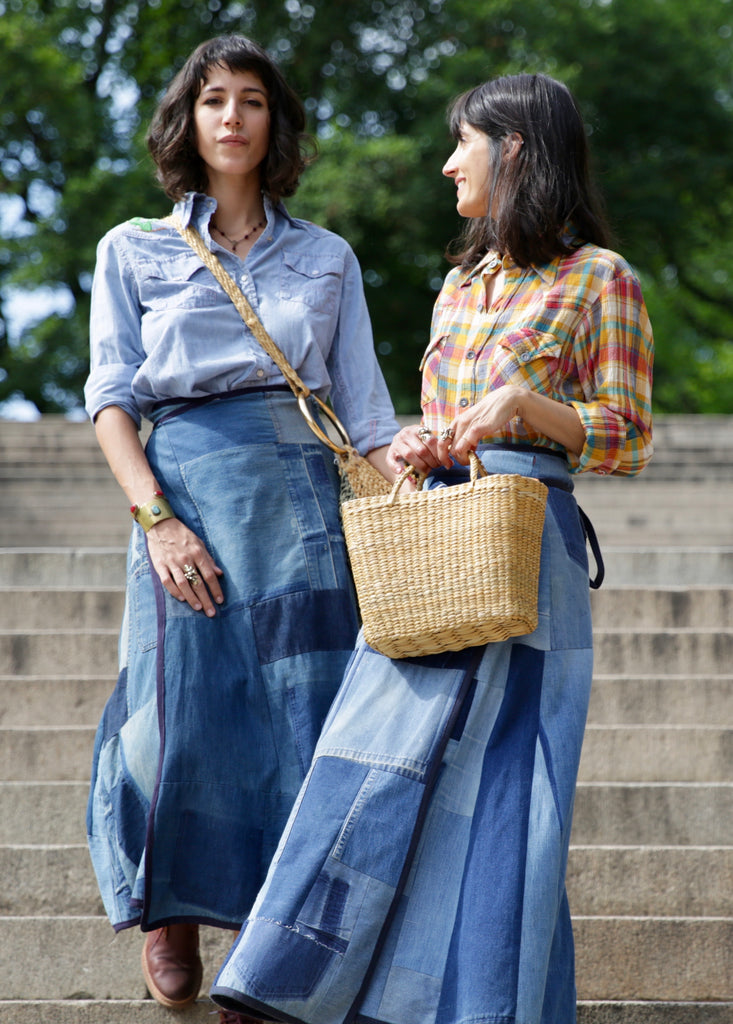 Daniela Denim Patchwork Wrap-skirt
$ 775.00
The Daniela Denim Patchwork Wrap-skirt is handmade from four pairs of vintage military jeans. The beautiful textural and tonal gradations from years of wear plus scattered vintage repairs and dark blue pocket "shadows" all create an extraordinary textile mosaic of blue skies and ocean blues. Dive in and wrap the Daniela skirt around you for year-round, season-less chicness.
A reproduction of my own beloved vintage patchwork wrap-skirt, the nearly 50 vintage patches gathered have been worn and weathered over time and reflect countless stories and adventures reminiscent of the Summer of Love. Daniela is described as "Couture Ready-to-Wear" by the fabricator because of the painstaking, innovative process it takes to remake her as close to the original as possible. For example, each patch must be seam-ripped instead of cut so that the well-worn vintage denim fabric will lay flat when sewn together. Daniela is truly a labor of love!
Due to the sheer amount of vintage denim required and the labor-intensive creation process, these skirts are available by order and require at least 2 weeks delivery time. Each skirt is handmade by the original Sample Maker from start to finish.
The skirt is "one-size-fits-most"- approximately a size 2-10. The models photographed range from size 2 to 6. Since it is a wrap-skirt it can be customized to each wearer.
All photos pictured here are by Juliet Ellis.